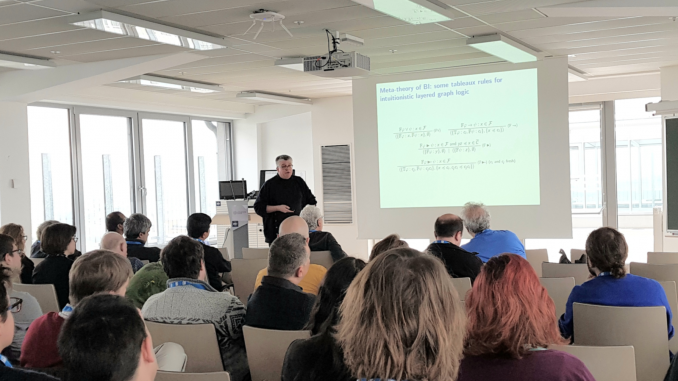 The second workshop within the project SYSMICS was held in Vienna at the Faculty of Mathematics, University of Vienna, from the 26th to the 28th of February 2018. The workshop involved 56 participants, coming from both external and partner universities.
A call for abstracts with deadline 15th December 2017 was previously announced and the 25 contributed talks were selected by the Organizing Committee according to the merits of the submitted abstracts.
The scientific program of the workshop focused on the interactions between syntactic and semantic methods in substructural and related logics, as well as their applications. In particular, several contributions presented analytic calculi for substructural logics (WP5) and studied their applications to verification, security, programming languages and concurrency. There were also several talks on the topic of algebraic logic (WP4) and corresponding duality theory (WP8).
Further information can be found at the workshop website: https://sysmics.logic.at .
List of the invited speakers
Matteo Maffei – Security and Privacy by Typing in Cryptographic Systems
Francesco Paoli – The Archimedean Property: New Horizons and Perspectives
Elaine Pimentel  – A unified view of modal and substructural logics
David Pym – Logic as a modelling technology: resource semantics, systems modelling, and security
Alwen Tiu – A proof theory for dual nominal quantifiers
Philip Wadler – Propositions as sessions
List of the participants
Federico Aschieri – TU Wien
Matthias Baaz – TU Wien
Paolo Baldi – TU Wien
Matteo Bianchi – Università degli Studi dell'Insubria
Gianluigi Bellin – Università di Verona
Stefano Bonzio – Universitˆ Politecnica delle Marche
Kees van Berkel – TU Wien
Petr Cintula – Czech Academy of Sciences
Kaustuv Chaudhuri – Inria & Ecole polytechnique
Agata Ciabattoni – TU Wien
Tiziano Dalmonte – Aix-Marseille University
Gabriel Ebner – TU Wien
Nissim Francez – Computer Science Faculty, Technion
Chris FermŸller – TU Wien
JosŽ Gil-FŽrez – University of Bern
Francesca Gulisano – Scuola Normale Superiore di Pisa
Didier Galmiche – LORIA – UniversitŽ de Lorraine
Marianna Girlando – Aix-Marseille University
Francesco A. Genco – TU Wien
Stefan Hetzl – TU Wien
Ahmad Karimi – Behbahan University of Technology
Jens Katelaan – TU Wien
Roman Kuznets – TU Wien
Lia Kurtanidze – Georgian University
Dominique Larchey-Wendling – LORIA-CNRS
Tomas Lavicka – Czech Academy of Sciences
Bj\"orn Lellmann – TU Wien
Fei Liang – TU Delft
Tim Lyon – TU Wien
Timo Lang – TU Wien
Alexandra Meireles – TU Wien
Matteo Maffei – TU Wien
Claudia Nalon – University of Bras'lia
Nicola Olivetti – Aix-Marseille University, LIS
Carlos Olarte – UFRN
Magdalena Ortiz – TU Wien
Adam Prenosil – Czech Academy of Sciences
Elaine Pimentel – Universidade Federal do Rio Grande do Norte
Matteo Pascucci – TU Wien
Francesco Paoli – Universitˆ di Cagliari
Jorge A. PŽrez – University of Groningen, The Netherlands
Perceval Pillon – University Paris 1
David Pym – University College London
Michele Pra Baldi – University of Padua
Giuseppe Primiero – Middlesex University London
Sanja Pavlovic – TU Wien
Revantha Ramanayake – TU Wien
Lutz Straßburger – Inria
Luigi Santocanale – Aix-Marseille Univesit
Markus Scherer – TU Wien
Luca Tranchini – TŸbingen University
Apostolos Tzimoulis – TU Delft
Alwen Tiu – Australian National University Canberra
Philip Wadler – University of Edinburgh
Organizing Committee
Federico Aschieri (TU Wien)
Paolo Baldi (TU Wien)
Agata Ciabattoni (TU Wien, Chair)
Francesco Genco (TU Wien)
Francesca Gulisano (Scuola Normale Superiore di Pisa)
Roman Kuznets (TU Wien)
Björn Lellmann (TU Wien)
Tim Lyon (TU Wien)
Matteo Pascucci (TU Wien)
Revantha Ramanayake (TU Wien)